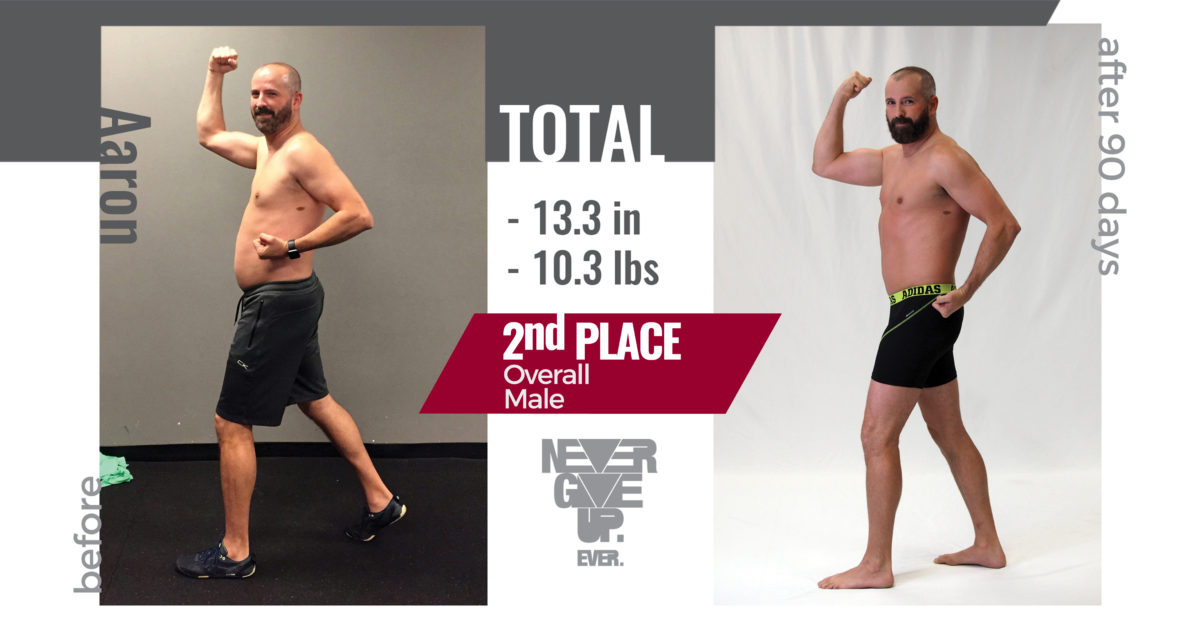 For me, the challenge has been much more than a few life changes… it's been a Total Transformation.
Dear FitMania,
The essay instructions said to speak from the heart so here goes…
First things first… I'm so grateful you allowed me to join Challenge 10 despite the fact that it was already five weeks underway! Reflecting on the past 8 weeks, I'm not quite sure saying my life has changed gives the challenge enough credit.
You see… the problem with change… is that it can change back. For example, over the past ten years I've made lots of changes. I've changed gyms, personal trainers, diet plans, and anything else I could think of.
In fact, just this past summer, I had a conversation with Dan Sager about FitMania, the benefits of HIRT workouts, and how awesome the challenges were. Even though I was really impressed with the results Dan had achieved, I once again fooled myself into believing I could reach my fitness goals alone… if I simply made a few changes in my life.
Before I knew it fall had arrived and once again the changes I had made failed to provide any lasting results. About a month later, after agreeing to help coach the fall season of my son's soccer team, I came face to face with the reality of my health and fitness decline since starting my family.
About three minutes in to our first "Coaches vs. Players" scrimmage I found myself gasping for breath, and ultimately faking a pulled muscle to end the scrimmage and save myself any further embarrassment. While driving home my son expressed how sad he was that I wasn't able to play and asked whether or not my muscle would be healed in time for the next scrimmage.
While devising an excuse for why I wouldn't be able to scrimmage the rest of the season, memories of my 300lb dad… sitting on the couch… watching TV… saying no every time I asked him to do any type of physical activity… came rushing in. Ironically my father was an avid athlete in high school, played soccer for BYU, and spent several years as a professional racket ball player. I have no idea why he tossed health and fitness out the window… but I can vividly remember promising myself that I wasn't going to do the same thing!
It was in that moment that I gained complete clarity. Making some changes wasn't going to be enough… I needed a Total Transformation… and with Dan's inspirational results… FitMania was looking like a really good option!
After completing my one-week trial… and several weeks of debate… I made the decision to give it a try for three months. If things didn't go well I could always go back to what I was doing… and if they went great… maybe I could join a challenge and help inspire someone else! Just one week later I discovered that if I didn't mind starting a month in I was welcome to join the current challenge. Looking back on my choice to enter late… I can honestly say it's made all the difference in the world!
With the exception of coaching my son's soccer team, my pre-challenge life consisted of days spent working, followed by nights binging on ice cream and goldfish while watching TV and playing video games.
What does life look like now?
It starts at 5am with a quick breakfast of protein, carbs, and fats, before hoping in the car to make my way from Middleton to Meridian in time to stretch and foam roll before the 6am class.
After class I head home to get ready for work and eat my next balanced meal. To avoid the temptation of a fast food lunch… I now prepare 2 more balanced meals ahead of time, and follow up each with a two-minute plank to keep my body burning fat throughout the day.
As for my nights… going to bed at 2am just isn't an option anymore. Let's face it… 5am comes early and a good nights sleep has a big impact on my performance during class. In order to get to bed by 10pm I had to give up video games cold turkey and haven't played a single minute since. I haven't given up TV… and to be honest I don't plan on it. What I have done is cut the list of "My Shows" by more than half, which means less time sitting on the couch, and more time doing activities with my family.
Lynne Twist captured my challenge journey best; "Transformation has a permanence to it – where once you transform, once you awaken, once you see the stations you didn't see before, you can't go back." For me, the challenge has been much more than a few life changes… it's been a Total Transformation. I am definitely FitMania for Life!
Before: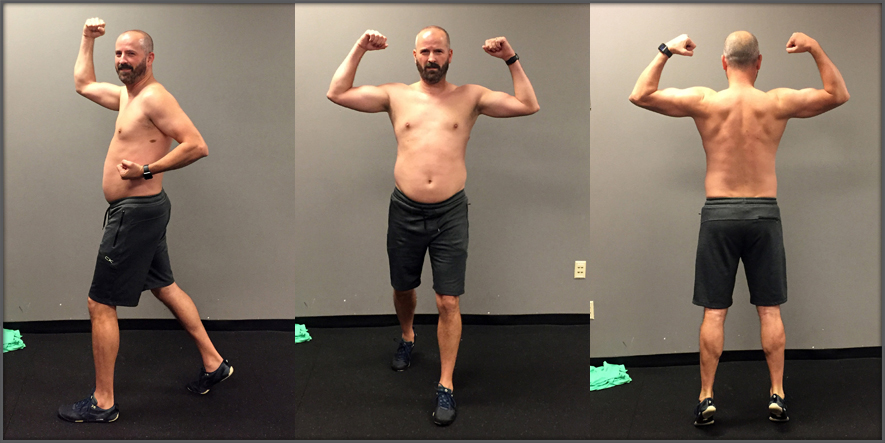 After: