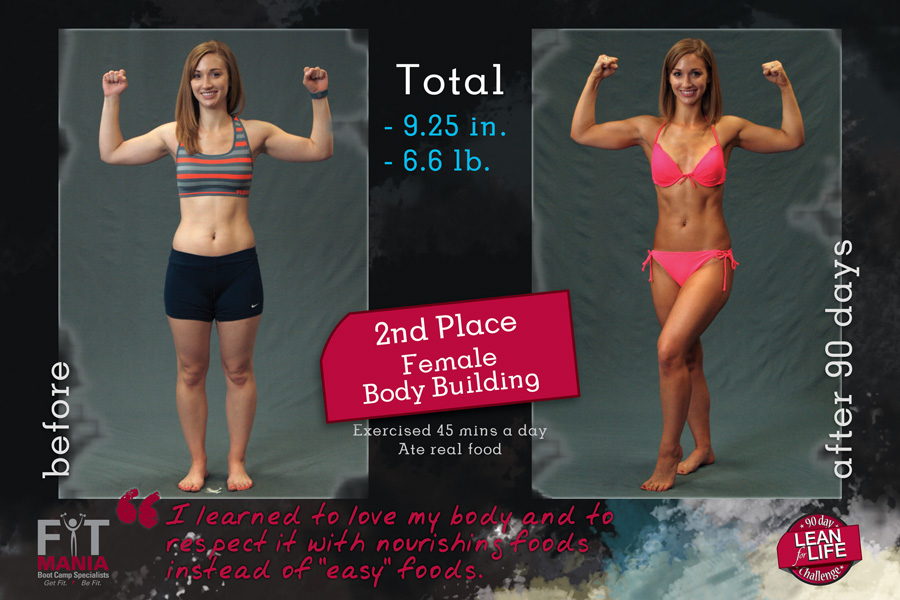 90 days ago I thought I was in great shape. I had been working out at FitMania for over a year, but had never accepted the Lean for Life 90 Day Challenge. I regularly attended bootcamps and was happy to be maintaining status quo.
I had so many excuses for not participating in previous challenges. First I was a recent college graduate navigating the "real world" while planning a wedding. Later, I was a newlywed who wanted to be home playing with my new puppy and spending time with my husband. I did not commit myself to being in a 90 day challenge because I was scared of how it would affect my comfortable life, and because I thought it would be too much work to learn how to make healthy eating choices.
The reason I started attending classes at FitMania back in March of 2014 was to get in shape for my wedding. I worked out hard 5-6 days each week and felt great on my wedding day in November. After the big day had passed, I had less motivation to get to bootcamp and made excuses to allow myself to only go three days per week. I struggled to even go that often sometimes and began feeling guilty for not taking care of myself.
My inspiration to complete this challenge came from my fellow FitManiacs. I have had the privilege of working out beside so many hard-working, dedicated people who are making positive changes in their lives little by little and I eventually felt compelled to do the same thing. I realized that although I don't have a wedding to prepare for, I do have something to work towards. I need to learn to take care of myself now at this young age if I want to live a long and healthy life.
I started by telling my husband, Jordan, about my decision. He was very supportive and ultimately made the decision to join me. Jordan had never accepted my invitation to try a FitMania class and always insisted he would not enjoy it, so I was absolutely ecstatic when he committed to an entire challenge! The only condition was that we had to have a really good "cheat meal" to look forward to.
Jordan and I planned our cheat meal way in advance. We decided we would get burgers, fries, and a milkshake during the last weekend of July. We were so excited when that day finally arrived, but during that meal we realized our expectations were way higher than reality. The food didn't even taste very good! I will admit the milkshake was pretty delicious, but we were both sick for the rest of that day. Our bodies have grown so accustomed to eating healthy foods, that we no longer enjoy processed foods the way we used to.
The ninety days of the challenge were so rewarding. I learned to love my body and to respect it with nourishing foods instead of "easy" foods. After a short time I realized that my healthy eating habits were eliminating my usual "afternoon slump." I feel energized and awake all day now that I eat six healthy meals per day.
In addition, cooking healthy meals was actually way easier than I thought it would be, and since we aren't eating out as much, it actually saves us a lot of money! I have learned to enjoy my grocery shopping trips and I am always very proud to see my shopping cart full of wholesome foods. And it turns out that cutting out added sugar eventually makes healthy foods taste even better! I now crave foods that I used to despise.
Another positive change is that my pants no longer fit and I got to go shopping for a whole new wardrobe. I went down one pants size and down a hole on my belt. I didn't think I had that much to lose, so never in a million years did I think I was capable of that much change in only ninety days!
Perhaps the most positive way my life has changed over the last three months is that Jordan and I have grown closer and stronger as a couple. We still attend all of our workouts together and consistently motivate each other to be better. We are much more active these days and often choose to take our dog to the park over sitting in front of the TV. Our lifestyle has completely changed in the best way possible. I feel like I finally understand what it means to be a true FitManiac and I plan to be one for life!
Before: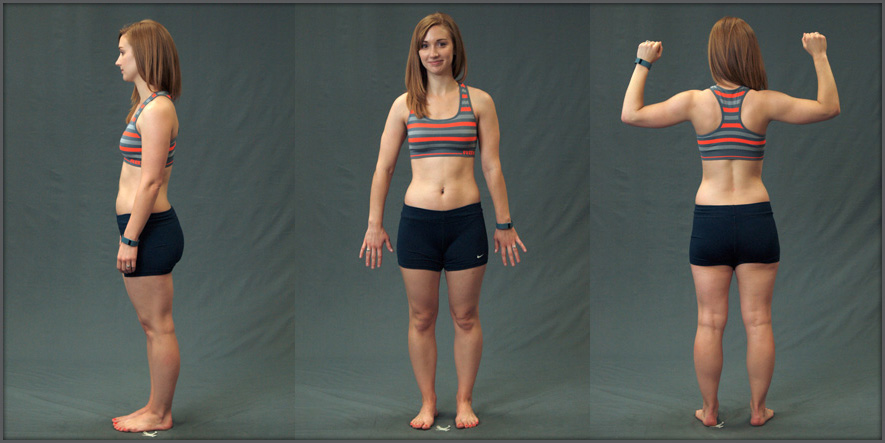 After: