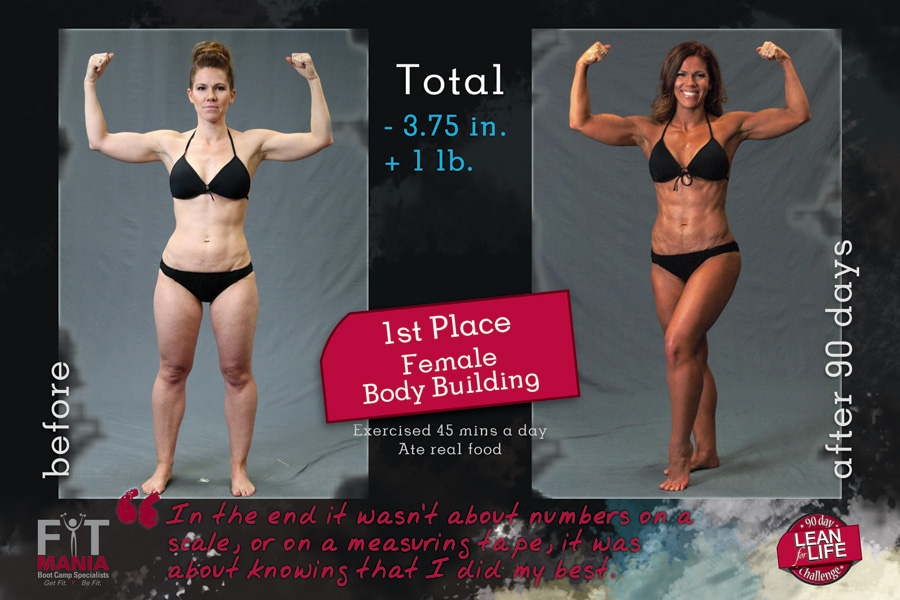 Early on in this challenge, I was jumping around at boot camp and it occurred to me that 3 years earlier, at that exact moment, I was in the ICU being sponge bathed the day after having brain surgery.  I turned to my husband who was jumping right next to me and recounted the memory I was having.  I could see the look of grief on his face over the memory of such a terrible time in our lives.  Very quickly, the look turned to amazement and awe that I was able to be there, at bootcamp, doing an intense workout.  I was remembering the feeling of helplessness that I had never known before that surgery and recovery.  Back then, that helpless feeling became my constant companion and is now a driving motivator for much of what I do.  I had been thinking a lot about those feelings and how to avoid them, as I made my goals for this challenge.  It would seem silly out of context, but in my circumstances jumping around was something I was, and am grateful to be able to do.
At the age of Thirty One I was diagnosed with a nerve disorder called Trigeminal Neuralgia.  This causes whats known to be the worst pain a person can feel!  I had brain surgery to correct it.  A few months after enduring a difficult recovery, I was diagnosed with the same disorder in the second Trigeminal nerve.  Though another brain surgery is likely in my future, I'm optimistic about a second surgery and recovery.  Being physically fit, thanks to Fitmania, I hope to recover quicker so as to be able to focus on being a wife, and a Mother to my four children.  I believe that this healthy lifestyle will help me to avoid that familiar helpless feeling.
My first day at Fitmania I was reluctant, to say the least.  My good friend Jen invited me to come see what she had been up to with this Fit for life challenge thing.  I was nervous that I'd have to do major modifications, because some excersizes have triggered my pain attacks.  I will never forget the first excersize the trainer anounced "10 minute plank" she said.  I thought I heard her wrong.  Who planks for ten minutes?  Now I know the answer.  Fitmaniacs plank for 10 minutes, that's who!  I was soon a Fitmaniac myself, addicted to the workouts, healthy lifestyle, the atmosphere created by the amzing trainers and people, and even the planks!  I very rarely have to modify workouts. I love Fitmanias use of natural body movement!
Writing down goals has been powerful for me.  Two of my major goals at the beginning of the challenge were to stay sugar and artificial sweetener free, while having a desert with my weekly free meal, and to work out 6 days a week including an extra 3 minute front plank.  I was even able to take my sugar free goal a step farther. I stopped eating sugar altogether halfway through the challenge.  Additionaly,  I was able to overcome headaches and neck pain that are long term effects from my surgery.  On days that I woke up feeling like the pain was too much, I showed up to bootcamp anyway, because that was my goal. I always left feeling better physically and mentally.  Movement Heals!
My health has been a major motivator for me in this journey. In the last 90 days I've learned to be grateful for the body and health that I have. Though I may not have total control over my health or my body, it's my job to take control of the aspects of them that I can.  In the past my idea of healthy eating left me without the energy to work out.  Conversely, when I excersized I was like a revenous monster, starving for nourishment, consuming whatever I could get my hands on.  Now I know how to effectively combine eating real food that nourishes my body, with amazingly effective daily workouts.  The combination of these have been powerful tools in reaching my goals.
A major life lesson I will take away from this challenge is the difference between inability and excuses.  When pain, lack of motivation, sugar cravings, or any of the thoughts and feelings that could've held me back crept up, I remembered that I'm not the only one with difficulties.  I've seen so many people at Fitmania overcome so much that I know my excuses will be just that, excuses!  I'm able, so I must… move, be active, eat right, and accomplish my goals.  I'm so happy with my results from the challenge.  In the end it wasn't about numbers on a scale, or on a measuring tape, it was about knowing that I did my best.
Before: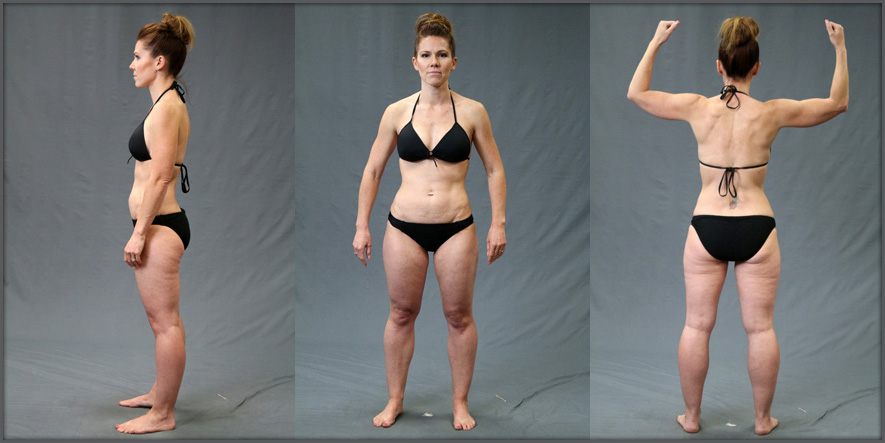 After: