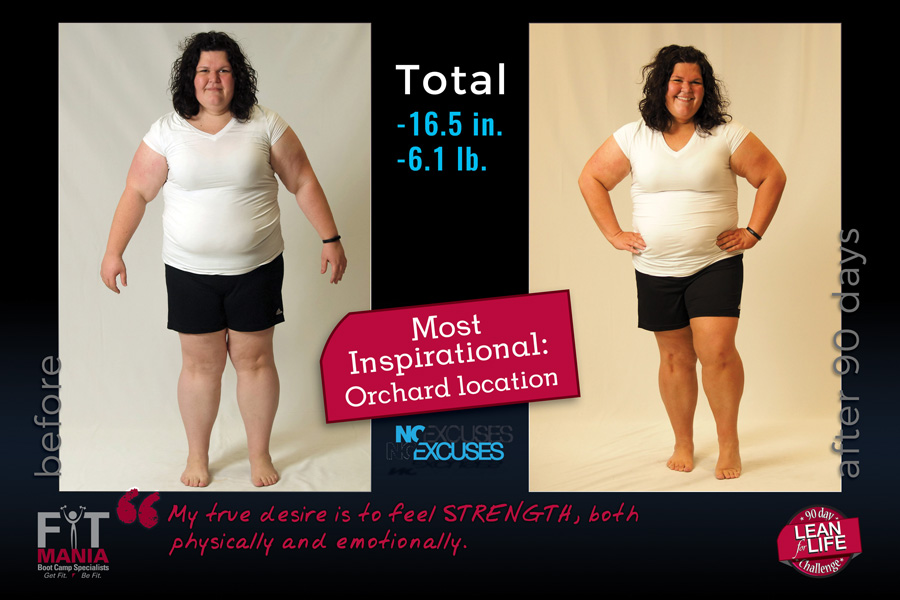 While it's always exciting to SEE a transformation, this challenge for me was about things much deeper than what can be seen.
You see, I have been heavy for most of my life and have ALWAYS functioned that way. I'vealways been a go­getter and hard worker, and NEVER let my weight stand in my way, physically or emotionally… until the last few years.
Right after getting married in 2011, I got a 3 month back injury. Shortly after, I got pregnant and ended up having 3 surgeries the following year. Recovery got more difficult with each event, both physically and emotionally. It got so bad that I started making excuses to not do things, even simple things like carrying the laundry up and down our stairs. I became a very dependent person, which has NEVER been my personality. For the first time in my life, I felt hopeless and broken… and for the first time in my life I felt the exhaustion of carrying around a heavy body.
About a year ago, I started to get back on track and started feeling good again, so we decided to have another baby. Though extremely grateful that I was able to get pregnant and add my beautiful son to our family, this pregnancy really set me back into that dark place again… so much so, that I didn't want to go out in public anymore, and it was beginning to affect my work performance, as well.
6 weeks after the c­section birth of my son (and barely cleared to exercise), challenge #7 started. Though it was the LAST thing I wanted to do, I knew I had to do something to break this cycle. I needed to feel the sense of accomplishment again, to know that I had a capable body, and to know that I was worth taking an hour out of each day for ME.
The thought of group classes peaked my anxiety, so I made one goal – to show up. At the time, that was the only thing I felt I had power over, so that was my only goal.
I remember the first week of the challenge having to walk out of every single class because I constantly felt weak, tired, in pain, and emotional. The second week, I got sick and missed 3 workouts, and upon returning, hurt my back. I wanted to give up!!! However, that night I told myself that I HAD to keep my promise to myself of showing up, no matter what. I am SO glad I made that decision because the next day my transformation began. Halfway through that workout, they had us write down our "why". Originally, I wanted to lose weight in order to feel better, but realized that was not currently my true desire. My true desire was to feel STRENGTH, both physically and emotionally. I realized that once this happened, my desire to be healthier would grow and the weight loss would eventually come. As soon as I wrote it, I could not quit sobbing. I felt SO weak, but SO desired that strength. I was mortified to have a breakdown in class, but it was then that I truly experienced the amazing support of the Fitmania family. I got nothing but support and encouragement from those around me.
From that moment on, I moved forward with "strength" in my mind and heart. I told myself that I couldn't get complacent with my workouts… that I did, in fact, have an able body that I should not take for granted. Finally, my desire to feel strong and confident, and to be emotionally present for my family, friends and students, far surpassed my temporary discomforts.
For the first time in a LONG time I can say that I am proud of myself! I finished a 90­day challenge… and PUSHED myself every day of it. Now, I am running, jumping, doing push­ups on the floor, and (almost) doing burpees ­­ all things I could not do in the beginning. AND, I can now walk around with my 17 lb baby with no back or hip pain. But even more than that, I now have more confidence, I'm independent again, and I am a much more present mom, wife, and voice teacher!
So, while I'm grateful to have lost some inches and pounds, I've learned that that is not where true transformation happens. It has to start from the inside and work its way out. You have to be happy with your accomplishments no matter where you are in your journey, and that sense of accomplishment is what will keep pushing you to be better every day.
I would love to inspire my friend, Clarissa Newman, to experience the Lean for Life challenge. She and I have gone through our health "journeys" together and she has always been extremely devoted to trying to live a healthier life. She is my choice because she is a new mommy, and has really struggled with the weight gain she has experienced and is expressing desire to get back into things. I want her to see that she can work out for 45 minutes a day and devote the rest of her time to family and work, and still get results.
Before: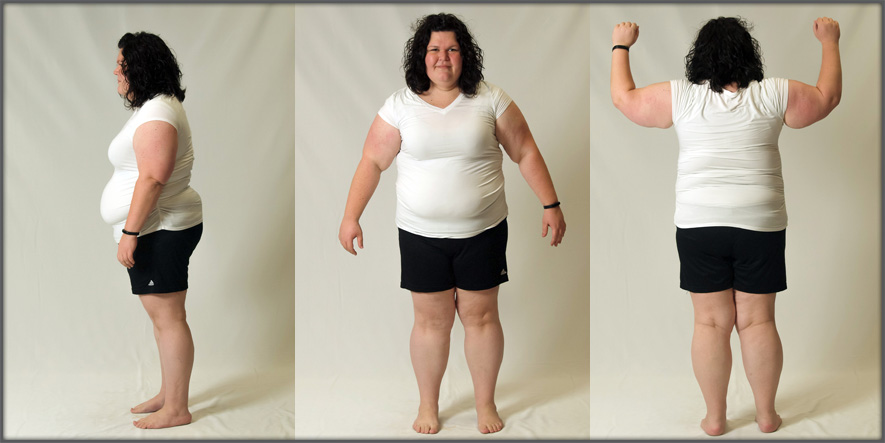 After: